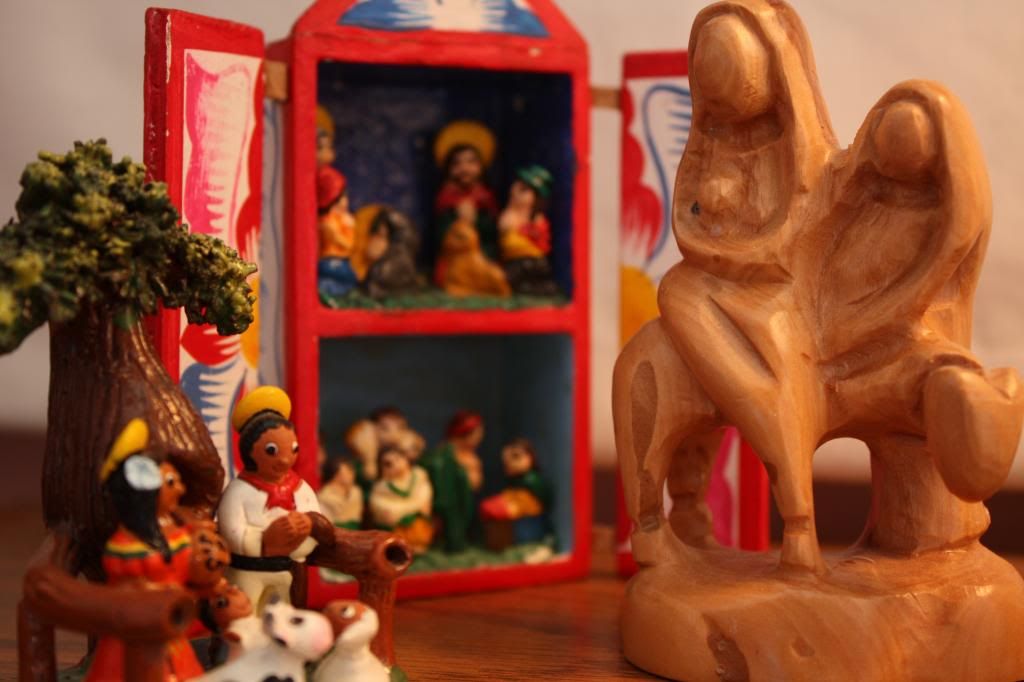 I just love nativities. My favorite of all time is the one my grandmother made of ceramic and painted many years ago. We lovingly place it in the most visible spot in the living room every year. For as long as I can remember, I've gazed and contemplated Christmas and Christ through the weeks it was displayed, and it still brings me back into the story of His birth when I look at it.
A couple of years ago I decided to start collecting nativities, but not just any nativities. I decided to collect them when I travel world wide. And I wanted small ones, the size of my hand or smaller.
I think collections should be carefully selected, with items chosen because they invoke feelings or memories or thoughts. I think collections should be small enough to be enjoyed, each piece known and loved.
This is a photo of my collection.
The nativity in the back is special because it is a little house, with doors that open and close. Inside the holy family sits, and below the shepherds reside with their sheep. I was fascinated by the house, and it traveled home with me from Bolivia, my first trip there.
On the right the donkey is tired, but carefully led by Joseph, with Mary and babe perched on his back. I love how the figures have no faces, but allow for imagination to take over. I can picture a "Mary" I know, who said, "let it be according to your word!" and a "Joseph" who courageously accepted what seemed impossible. Faces I know can replace the ones the artist would use. This is made of olivewood and bought in Jerusalem. I haggled with a Jewish man who had just given me fresh orange juice, the freshest I've ever tasted. He declared I was starving his children, but when I left his shop we were both satisfied.
And on the left, is my latest one, bought in Santa Cruz this year. I love how the family looks so Bolivian with a tabor tree behind them.
I think I am fascinated because I love the ethnicity of them. I love seeing how people in different cultures represent Jesus, and how they take their artistry and weave it into the global message. I love seeing Jesus portrayed in different color skins, different cultural details telling a story to people in familiar ways. It fascinates me to think of how different places in the world view Jesus and His story, how they clothe Him in their clothing, how they picture his setting like their own. And I wonder about what I add to the story, unknown, from my own setting. Perhaps my Jesus was born in a shed in the middle of a cotton field. Its really a beautiful thing, how we can all read the same story, written thousands of years ago, and all from different times and cultures, and yet are united by the same story of salvation for all. Grace and strength for all.
Its a global story for all.